Owning a pet provides so many benefits to humans. Pets can help their humans ward off depression, lower blood pressure, and boost immunity. They are also wonderful listeners who, unlike other humans, are guaranteed not to confide our deepest secrets. American journalist and poet Christopher Morley ones shared, "Nobody appreciates the very special genus of your conversation as the dog does." It's so true, except for the one problem they all have in common and that is shedding. However the best vacuum for pet hair can help eliminate that problem!
It is so important to have the best type of vacuum for pet hair. When it comes to favorite pets, ones with fur top the list, but even the biggest pet lovers are faced with the problem of cleaning up hair that sheds. How much does your pet shed? Are you or a member of your family allergic to pet dander? Is your pet strictly indoors or do they spend some time outdoors as well? The best vacuum for pet hair can handle all of these issues and more, preventing hair from winding up in unwanted places like the inside of the refrigerator and the back of the toilet.
5 Things to Look at When Buying a Vacuum for Pet Hair
Many people have found that the best solution is with a vacuum specially designed to pick up pet hair and dander. A random selection is no guarantee that you can eliminate pet hair from your home. Outline what you need in a vacuum cleaner and then use that list to narrow down your search. Some of the factors you might consider include:
MANUFACTURER
Some vacuum cleaners are only as good as the reputation of their manufacturer. Often people will choose a certain brand over another based on popularity. However this is the worst way to choose a vacuum cleaner. While selecting a reliable manufacturer is important, the other factors below should consider into your final selection as well.
 NEEDS
What are the needs you have in a vacuum cleaner? It is important to make a list of tasks that your vacuum should accomplish. Things that influence your needs include things like whether you have carpet or hardwood floors, the amount of furry pets you own, and what types of breeds the pets are in regards to low shed or ones that shed year round.
FEATURES
Not all vacuum cleaners work alike. Compare the list of things you need in a vacuum with the features available to the one you choose. Some features include things like special attachments, bag versus bag-free, and the type of filter used to collect dirt and dander associated with pets.
RATINGS
Never buy anything without reading the ratings. Amazon offers "Verified Buyer" status on ratings, so you know that the person sharing their comments actually owns the product. You can trust that the review is genuine and that the comments were not influenced based on some type of compensation in exchange for writing the review.
PRICE
Although owning the best vacuum for pet hair is important, you should try and stay within your budget whenever possible. For example you could start with a smaller model that takes care of the problem now and then save up for a more deluxe model to tackle the job for the long-term. Then keep the lower model for use in a separate area of the house, like the basement or upstairs bedrooms where pets are not allowed.
Now that you know what to look for in a vacuum, it is time to make your final selection! Here is a quick comparison between three different top brands of the best vacuum for pet hair to help get you started. However Amazon offers so many different solutions, that you are sure to find the one that is right for you, your family, and most importantly your family's pet.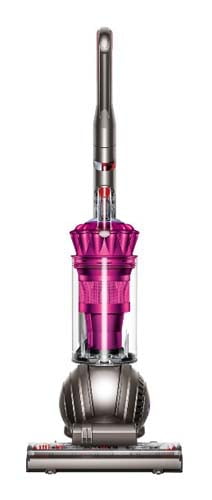 The name Dyson is synonymous with quality, and despite the high price tag it always enjoys high customer ratings. A whopping 76% of the 311 reviews on Amazon give this model alone 5-star ratings. The Dyson Animal qualifies as a best vacuum for pet hair because it works exactly as described. Here are the specifics to consider before buying this top of the line vacuum cleaner.
• Size–The Dyson Animal stands just over 36 inches tall and weighs nearly 28 pounds, but you would never know considering how lightweight and durable it is. The accompanying hose allows you to reach crown molding, behind the sofa, and other places within your home that are typically hard to reach.
• Technology–Built with "Radial Root Cyclone Technology" this vacuum steers on a dime and sucks up pet hair and dander without getting clogged or restricting the flow of air through the vacuum, unlike one that uses a bag or filter.
• Ergonomics – The Dyson Animal comes complete with a bag of extra tools to help you vacuum, brush, and dust away pet hair and dander – even if you have multiple pets! Because there are no bags or filters, you never have any extra expenses.
• Disadvantages–People who complain about the Dyson Animal do so most likely because they were forced to have one part or another replaced within the first year of ownership. However more often than not that is taken care of by the warranty.
• Warranty–Dyson offers a 5 year warranty on parts and labor for this model, and that is after the company's research and development team put it through rigorous testing while creating the machine.
Click here to check more information on Amazon!
Founded in 1908, Hoover dominated the electric vacuum industry throughout the early and middle of the 20th century. However despite competition from other names, the company has continued to listen to the needs of its loyal consumers and offers this model especially for those who own fur bearing pets. You'll find specific details that rank the WindTunnel T-Series Pet Upright Vacuum as a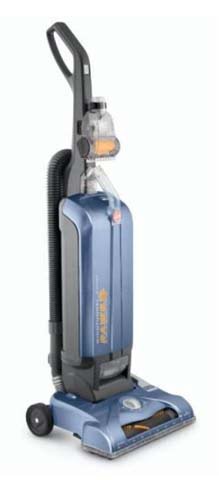 "best vacuum for pet hair" listed below.
• Size – Measuring 32 inches tall and coming in at just over 20 pounds, do not let the compact size fool you. This vacuum has the power to remove pet hair from hardwoods, carpets, and furniture.
• Technology – Built with WindTunnel technology, this vacuum sports an activated carbon HEPA filter that traps 99.9 percent of dust and pollens that otherwise live in the air inside your home, down to 0.3 microns in size.
• Ergonomics – The "one touch" bag door release allows users to quickly and easily empty the bag into the garbage without having to touch the dirty bag. The exception is listed in the "disadvantages" section, below. The model also includes an extension wand, crevice tool, and a 12-foot stretchable hose for hard to reach places.
• Disadvantages – The only real disadvantage to this model is that the dirt chamber is small and proves difficult to empty. Some owners complain about having to remove dirt by hand, but otherwise the complaints are few and far between. Another disadvantage is that the vacuum is not bagless, which means regularly buying bags and filters.
• Warranty – Hoover offers a limited two-year model on parts and labor for this particular model.
Click here to check more information on Amazon!
Do not let the size of this diminutive vacuum fool you. As its name suggests, this model packs a real punch when it comes to erasing pet hair from your home. Due to its compact size, the Bissell Pet Hair Eraser hand vacuum is not only useful for inside the home, but it is also the best vacuum for pet hair inside your personal vehicle. This is especially handy if your pet regularly joins you for rides in the car. Here are some specifics that provide more details about the machine.
• Size – This handheld model measures 10" x 5" x 8" and weighs just a single pound making it the most versatile of the three appliances listed in this review. Its small size allows for use by children responsible for helping care for their pet or elderly pet owners unable to drag around a heavy machine.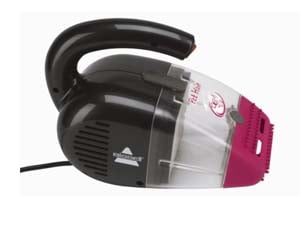 • Technology – The Pet Hair Eraser offers not one but two unique nozzles to help eliminate pet hair from your home. Created from rubber, they work as a type of magnet that attracts hair and pulls it out of surfaces such as stairs and upholstery.
• Ergonomics – The contour nozzle and curved handle make this little vacuum a comfortable way to clean pet hair from the home.
• Disadvantages – The only real complaint about this model is in regards to the way that the manufacturer designed the exhaust fan, which blows out both sides in a direction that's angled forward.
• Warranty – Unlike the other models reviewed here, Bissell only offers a single year limited warranty on parts and labor.
Finding the best vacuum for pet hair is such a challenge! Even if your pet is not a cat or dog, you still have need for a vacuum. Hamsters, gerbils, and birds frequently strew things like bedding and feathers outside their cages. A vacuum is also handy in cleaning out the cage. Because you can empty a bag-free vacuum straight into the outside garbage bin, it also makes cleaning pet cages more sanitary.
Click here to check more information on Amazon!
Final Tips for Selecting the Best Vacuum for Pet Hair in Your Home
The best way to decide which vacuum is best for you is to let your lifestyle make the decision. Consider how many pets you have and their level of shedding. For ones that shed, is the fur hypoallergenic? If you own a dog that sheds a lot of hair and dander, then a vacuum with HEPA technology might do a better job for you.
Once you determine your pet-related cleaning needs, then it is time to choose a vacuum to help eliminate the pet hair.There are so many reviews and commercials telling you which vacuum is the best one for your family, including cleaning up after the pets. By planning out how to remove pet hair from your home, you are taking control over making your home a clean, safe place for everyone!