If you're looking for an entry-level Wi-Fi router to keep connected all your home or office devices, then ASUS is a good brand to turn to. Having been in the consumer electronics industry since 1989, the company has made good progress in becoming a leading brand across the world.
One of the company's areas of expertise is in producing top-quality hardware at an affordable price, and that's exactly what you get with both the Asus RT-AX56U and the RT-AX58U Wi-Fi routers.
Asus RT-AX56U WiFi Router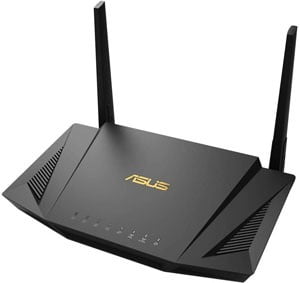 The Asus RT-AX56U is an entry-level Wi-Fi router that's powered by a 1.5GHz quad-core Broadcom BCM6755 processor. It offers a data rate of up to 574Mbps over 2.4GHz and as much as 1201Mbps over 5GHz.In terms of usability, there are several ports for you to connect various things to including a Gigabit WAN port, four x 1-Gb LAN ports, a USB 3.0 port, a USB 2.0 port, a rest port and WPS button.
The RT-AX56U is a relatively easy router to operate. Upon powering it up for the first time, set up will take a few minutes, but can be done either via the website or by using the smartphone app.
One of the best additional features this router has to offer is the AiProtection feature, which seems to be standard across all ASUS Wi-Fi 6 routers. This feature offers real-time monitoring of your network to look out for any viruses or malware that may be harmful to your device and automatically blocks it for your protection.
Another great feature it has is the IPv6 feature which allows users to take over full control over their network. It supports both Amazon's Alexa and IFTTT, so if you do want to transform your home into a smart home, that's just fine – the Asus RT-AX56U can help you do that.
Everything you need to get going is in the box. There's the unit itself along with an Ethernet cable, an AC power cord adapter, and a user manual.
Asus RT-AX58U WiFi Router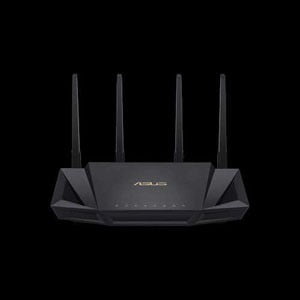 Released not long after the AX56U, the AX58U is still considered to be an entry-level router, but with a few extras hidden under its cover.
The first thing to note is the AX58U is slightly more powerful than its predecessor.It offers a top speed of 2.4GHz over 600Mbps and as much as 5GHz over 2400Mbps.
In terms of looks there's not a great deal of difference. Both feature the same sleek, black exterior and both are similar in size. The real main difference in appearance is the two additional antennas featured on the AX58U. In between these antennas is where the ports are located. These are the same as those offered in the AX56U.
When it comes to functionality of the AX58U, there's very little difference to be seen from the AX56U. Both use the same Asus web user interface, and app. And both feature the same universal setting restoration, meaning you can simply transfer all your data from one router to another upon upgrading.
The AX58U also features the same great AiProtection. In addition to that it has an adaptive quality of service (QoS) engine that enables you to prioritize internet traffic, as well as a traffic analyzer which lets you know just exactly what's going on within your network.
Recommendation
Both routers are equipped with the next-gen Wi-Fi 6 technology, providing much faster speeds than ever before. And both have a very subtle appearance, meaning that neither will look out of place whether used at home, school, or in the office. And, both are very similar in price.
However, for the very little extra you will pay to get the AX58U, it's well worth it. The speeds are much faster, and it offers some great extras. It's easy enough to use and doesn't take much to get started. So all-in-all, the Asus RT-AX58U is the better of the two.