If you have been shopping around for a new scanner, you may be feeling a bit overwhelmed as to all of the seemingly unlimited options that are available to choose from. Here, we have narrowed down two top-rated options that you may just want to take the time to consider investing in: the Epson Perfection V850 Pro scanner and the Canon Canoscan 9000F Mark Ii Color Image Scanner.
Epson Perfection V850 Pro Scanner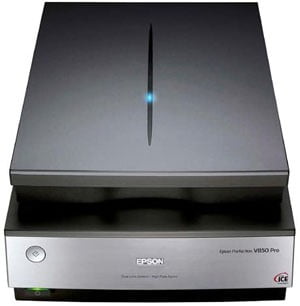 The Epson Perfection V850 Pro Scanner is a great choice. Epson is a notable name in the technology niche, as they always deliver trustworthy and dependable products. And this one is of no exception! The Epson Perfection V850 Pro Scanner offers everything you need to be able to scan your photos with ease and the utmost clarity and precision.
The Epson Perfection V850 Pro Scanner provides you with state-of-the-art tonal range and unmatched shadow detail thanks to the 4.0 Dmax which offers smooth gradations. This scanner also automatically removes scratches and dust with the assistance of the Digital ICE Technologies. The Epson Perfection also comes complete with the "LaserSoft Imaging SilverFast SE Plus" software which is aimed to be able to control shadows, highlights, scaling and descreening, gradations, selective and global color, all the while sharpening your images. Use the "Easy Photo Fix" option to restore colored photos that have faded to their once sharp brilliance. The Easy Photo Fix also comes with digital dust removal and backlight correction options as well!
You can also scan with the utmost productivity as the Epson Perfection can batch-scan several slides, medium to large format film, and even negatives with its advanced optics that deliver optical coatings that are anti-reflective and also a super high-reflection mirror. Convenient and sturdy film holders also come with the Epson Perfection. They are height-adjustable and can hold twelve 35mm mounted slides, one medium-format strip, one 4×5" frame, and three 35mm film strips. The scanner also comes with two sets of film holders for increased productivity!
More Features of the Epson Perfection V850 Pro Scanner
Item Dimensions: 12.1 x 19.8 x 6 inches
Resolution: 9600
Item Weight: 20.9 Pounds
Wattage: 23 watts
Canon Canoscan 9000F Mark Ii Color Image Scanner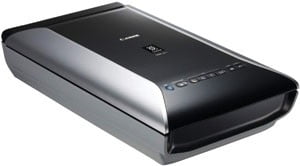 Canoscan 9000F Mark Ii Color Image Scanner comes ready to install a setup CD-ROM. Similar to the Epson Perfection this one comes with a Film Guide 35MM Mount and a Film Guide 35MM Strip, however there are not as many film holders as the Epson provides you with.
This one also provides you with top of the line scanning capabilities and offers 9600 x 9600 maximum color resolution along with a superior 48-bit color depth and more than 281 trillion possible color matches. The Canoscan comes with the "My Image Garden" software that provides you with the opportunity to organize and print all of your photos, and offers some truly unique added features like filters, facial recognition, calendar organization, and automatic layout suggestions. This software is a bit more than that of the Epson.
Yet another difference between the two is that the Canoscan comes with seven different "EZ Buttons" that are designed to automate the scanning process as a whole. With a simple push of the button, you can scan, copy, and even create PDFs and email attachments. It also comes with the user-friendly auto scan option which gives you the power to crop your document to the proper size, scan it and then save in the proper file format with just one click of the button as well.
Just like the Epson, the Canoscan makes scanning old photos super easy and brings them back to life with the utmost sense of vibrance. Also similar to the Epson, this one has an Auto Fix option which really helps to boost how your images come out. And, it too offers the capability of being able to remove dust and scratches from your old photos as well, though it uses a different sort of technology to do so (the FARE Level 3).
More Features of the Canon Canoscan 9000F Mark Ii Color Image Scanner
Item Dimensions: 18.9″ x 4.4″ x 10.7″
Resolution: 9600
Weight: 10.1 lbs.
Wattage: 15 watts
Recommendation
There are a number of likenesses and differences between the Canon Canoscan and the Epsom Perfection that make them both truly great scanners. While the Canon Canoscan is a bit more user-friendly and offers a bit more "fun" options, the Epsom Perfection is a bit more of a professional grade scanner. You will just have to take into consideration what you are looking to get out of your scanner purchase overall in order to determine which of these two is going to be the best fit for your personal needs.