A pressure washer can serve several different functions, which is why many people choose to purchase one for their home, business, or both. Both Stanley and Sun Joe provide high-quality pressure washers and have excellent ratings for their products. So, we'll look a little closer at both of them to help you decide which one offers the features you need. You just need to determine what you're going to use it for first.
Stanley SHP2150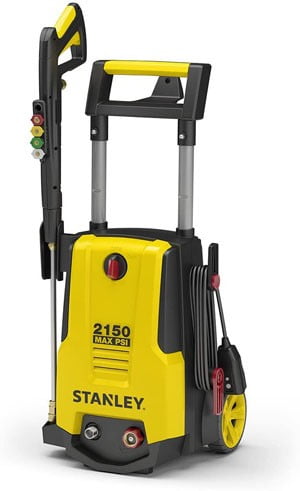 This electric pressure washer offers 2150 PSI, and four quick connect nozzles. The nozzles are each color-coded to make it easier to choose the right one for each task, and to get them set up and ready fast. With a 25 foot hose and a 35-foot extension cord, you can reach around your entire yard with less movement than you'll get with similar units.
Complete with a leakproof, brass connector to attach to any standard garden hose, the Stanley SHP2150 includes practically everything you need to get your next project done. You'll have a foam cannon and detergent tank, an O-ring replacement kit, high-pressure wand and hose, and a washer gun. You'll also get a full two-year warranty and customer support for the lifetime of the unit.
You can use the nozzles to clean driveways, vehicles, buildings, and more, including concrete, steel, siding, and plastic. Just take a moment to pick out the best combination of a nozzle, detergent, and sprayer and you'll have the job done fast.
Quick Features:
4 quick connect nozzles
25' hose
1.4 GPM
2150 max PSI
High-pressure foamer
Leakproof connections
2-year limited warranty
Sun Joe SPX3000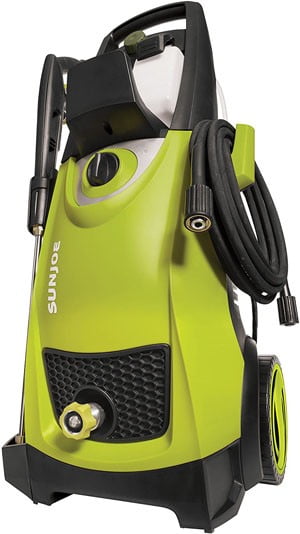 The Sun Joe SPX3000 offers dual detergent tanks to make it easier for you to clean different surfaces at the same time. You'll also have five different quick connect nozzles for different surfaces and types of cleaning. For high power, low power, soap, and mid-level jobs, you can choose between each of the various nozzles, which are color-coded to make it easier to find what you need.
On top of that, you're going to have a 34" extension wand for hard-to-reach places and a 20' high-pressure hose to get plenty of power. With the 35' power cord, you'll have no problem getting as far as you need to around your yard. Not to mention you're going to get a needle clean-out tool, hose adapter, and a total stop system trigger to turn off the unit when it's not in use. Complete with an 1800-watt motor and 2030 max PSI, the Sun Joe SPX3000 can definitely get the job done.
It can clean buildings, vehicles, decks, driveways, lawn equipment, and anything else you might have. Not to mention, you can remove things like mildew, oil, tar, rust, and grease from concrete, brick, siding, steel, and more.
Quick Features:
5 quick connect nozzles
20' hose
1.76 GPM
2030 max PSI
Automatic shut-off
Dual detergent tanks
2-year warranty
Recommendation
While both of these units offer excellent features and versatility, the Stanley SHP2150 provides a slight edge over the Sun Joe SPX3000. While the Sun Joe offers an extra quick connect nozzle, that's where its benefits seem to end—yielding to the Stanley.
That doesn't mean that the Sun Joe isn't a good choice, just that it doesn't have quite the options and abilities that you'll get with the Stanley.
Stanley offers a higher PSI, at 2150 rather than 2030. It also provides a high power foam cannon that will make cleaning even the dirtiest of surfaces a whole lot easier. It also has a longer hose, which paired with the 35' extension cord gets you even further without having to worry about moving around. You'll get the same two-year warranty with both units, but with the Stanley, you'll have leakproof connections, lower gallons per minute (which is better for your water bill and the environment), and a replacement kit.