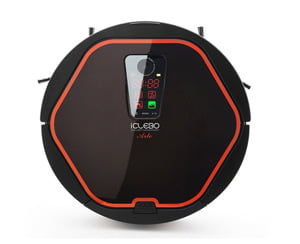 iClebo has become a trusted name in the cleaning robot industry across the globe. Over the years, their models have become serious contenders with other big names and the YCR-M05-10 is a perfect example of such superior craftsmanship. The company has a long line of similar products, and their expertise is apparent in all of their products.
This model, the YCR-M05-10, is a quality product that falls in the middle of the range of robotic vacuum cleaners. While it is not among the most expensive or powerful models, it is also not a worthless piece of equipment that is better at making noise than cleaning. The YCR-M05-10 is a nice middle-of-the-road cleaner for the average person looking for cleaner floors.
There are many things to consider when looking for a robotic cleaner, so let's took a look at all the different aspects of the YCR-M05-10.
Multiple Sensors For Maximum Performance
A lot of peoples' first question when looking into buying a robotic cleaner is "How does it work?" They usually aren't concerned with the internal mechanism or whether it is a vacuum or a mop, but we will cover that later anyway. What they want to know is how it can get around without banging into anything. The YCR-M05-10 has over a dozen different sensors that work with its internal computer to tell the device where is going and what is in front of it. This cuts down on collisions between the machine and your furniture. This also makes it very safe for pets and your own feet. Early models of robotic vacuum cleaners only had one sensor which led to a lot of bruised furniture and cleaners falling down stairs. The YCR-M05-10 is perfect example of how far these cleaners have come.
Two Modes of Cleaners
The YCR-M05-10 is not just a robotic vacuum. It also has a mopping function that further cleans the surface where it runs. The device starts with a pair of spinning brushes that loosen dirt and debris from carpet and hardwood. Then, a spinning roller brush collets large pieces and sends them through a chute that deposits them in the dust bin. Finally, a powerful yet quiet suction apparatus collects anything that the first two phases may have missed.
If you are interested in the mopping feature on the YCR-M05-10, there are two attachments that can be used. This modes is ideal for all types of hardwood, laminate, vinyl, or tile flooring. The ultra-microfiber wet mop can clean even the tiniest of particles that have dried onto your floors. While it is not ideal for large spills and can't handle big pieces of garbage, the YCR-M05-10 is capable of handling the everyday dirt and grim that ends up on the floor.
Cleaning and Maintenance
One of the best features of the YCR-M05-10 is the amount of accessories that come with it. Besides the mop and its attachment, this model also comes with a cleaning brush that you can use to clean the brushes from time to time so that they are able to do their jobs correctly. A spool of boundary tape is included so that you can set limits for the cleaner which will interact with its many sensors. A replacement set of brushes are included in case of breakage and the handy Quick Guide will tell you everything you need to know about the cleaner.
Also in the box are several extra air filters that go inside the cleaner. These filters need to be replaced periodically and are a wonderful feature on most of today's robotic cleaners. These filters make sure that when your little machine sucks up allergens of any sort, it doesn't just send them back into the air that you breathe. This includes pollen, pet dander, and even mold spores, all of which can be troublesome for allergies and other health concerns. You'll be happy to have these filters in your cleaner, which is an added bonus to the YCR-M05-10. Once you've gone through all the filters than have been provided, more can be ordered from the manufacturer.
Power Supply
The YCR-M05-10 runs on lithium ion batteries which is common for most of today's robotic cleaning devices. The device comes with a docking station and power adapter that allow you to connect it to a wall outlet. It is ready to go right out of the box. When is does need to be charged, it does so silently and in one of the quickest times when compared to other robotic cleaners. When it is fully charged, the YCR-M05-10 has an exceptional running time. These lithium ion batteries are longer than any other on the market. The battery included in this model is guaranteed for up to one year which is industry standard. All in all, this cleaner should last quite a while before the battery runs out and it can't take a charge anymore.
Sleek, Stylish Design
Apart from being effective and reliable, the YCR-M05-10 is also a rather nice looking machine to have roaming throughout your living space or office. The outer shell is made of shiny black plastic with a red outline adorning the top. There is a digital display on the top that allows you to program how exactly you want your cleaning to be done. There are only a few buttons, and the sequences be confusing for some, but they are all explained in detail in the Quick Guide that comes with the product. The device works rather quietly, especially when compared to earlier models and cheaper versions from other manufacturers.
Purchaser Satisfaction
Most people who have purchased the YCR-M05-10 and other iClebo products have been satisfied with their investment. It tends to cost significantly less than many of the high-end robotic cleaners. iClebo has a wonderful warrant and repair policy. People who have had to contact customer support concerning their YCR-M05-10 have always been pleased. Most of the short review on various sites reveal that many people bought the YCR-M05-10 as an upgrade from their previous cleaner, whether it was out of necessity or just curiosity, and many of them intend to purchase another one or a similar iClebo product in a few years. People really seem to like the price of the YCR-M05-10 as most of them thought they would never have been able to afford such a quality product.
Overall Good Investment
In summation, the YCR-M05-10 is an affordable model of robotic cleaner that gets the job done. It can handle a medium-sized apartment or small office with relative ease. It wouldn't be any good for a large mess, but realistically no robotic cleaner would. Its multiple cleaning functions and ample accessories make it highly versatile, and the replacement pieces and long battery life mean you will be able to use this device for years to come. No need to spend too much money on a super fancy model when the YCR-M05-10 can get the job done just fine. It's durable and built to last, so you won't be buying another any time soon. If you are looking for a reasonable, affordable, and capable robotic floor cleaner, look no further than the iClebo YCR-M05-10.