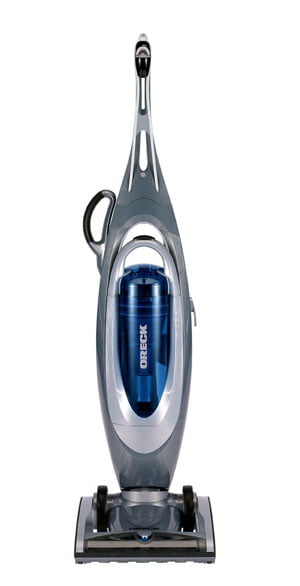 Orech has manufactured some pretty impressive rugged but simple cleaning machines over the years. Among its vacuum cleaners, Oreck Touch Upright Bagless, simple known as Oreck BU10000, has received particular attention and praise from the customers. This elegant machine showcases a wide range of useful features and provides smooth performance.
Efficiency of Performance:
Oreck BU10000 provides powerful suction with or without the power wand that comes with it. This makes the machine equally effectives for cleaning floors as well as narrow spaces and stairs. Regardless of the quantity of dust in the collection bin, the level of suction is efficiently maintained by Oreck BU10000. For an average house, you can do the cleaning one or even multiple times without any need to empty the collection bin. However, if you have a large house to clean and there is a lot of dust, you might find it a bit small. It's very easy to clean the bin, you simply pull it out and empty it in the trash can. While sweeping bare floors, you have the option of turning off the brush roll since brush roll is rarely required on bare floors.
Powerful filter System:
Oreck BU10000 comes with a multi cyclonic filter system which is divided into four stages. This results in increased power of suction and clean exhaust. The canister cup filters and HEPA filters used in Oreck BU10000 can be easily washed under running tap water and made ready for further use. This considerably reduces the maintenance problems because the filters last long and you don't need to purchase any extra filters. HEPA filters are equipped with the cutting-edge sealed technology due to which dust particles cannot escape from the filters and hence you remain immune to any kind of dust allergies. On average, these filters have been found to last for several years before any need to replace them was felt.
Design Efficiency:
Oreck BU10000 has an elegant design that contains several useful features integrated into it. For instance, there is an LED light on the front of the vacuum that is bright enough to lighten up a dark room. With this light, you can do the vacuuming under low light situations. The power switch as well as the on/off switches are also located on the front of the vacuum, so when the LED is working, these switches also lighten up.
Accessories:
There is a wide range of useful accessories that comes with Oreck BU10000. There is a long flexible hose to do the cleaning in narrow spaces and around furniture, easy access power wand, a small brush, an upholstery brush and a separate bag to hold all these tools. The soft and smooth wheels at the bottom of the machine make its mobility very easy, given that it also does not have very high weight.
Conclusion:
For usual vacuuming at home, Oreck BU10000 can be a great choice for you. It comes at a reasonable price and provides all the useful features that a home user can ask for. The worth is further augmented by its lightweight structure and easy mobility.
Click here to purchase this product on Amazon.