Simpson PS4240S is a relatively heavy duty and heavy weight machine from Simpson. But its size and weight is equally complimented by some pretty amazing features and structural innovations. Even though it weighs over 170 pounds when filled with the fuel, it's easy to drag it around, thanks to the smooth and durable wheels under it.
Adjustments and Positions:
To begin with, Simpson PS4240S is fitted with a triplex pump and contains ceramic pistons. These pistons provide smooth performance over long periods of time and are highly durable. The unloader of the machine is adjustable which significantly increases the range and variety of the machine.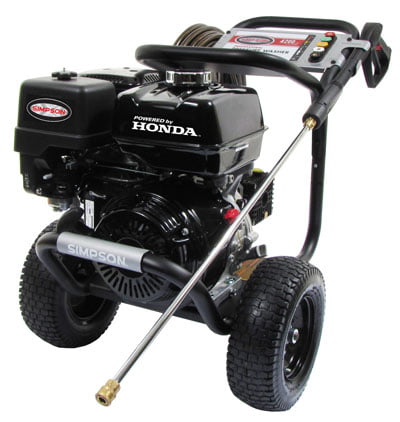 Multiple Nozzles:
Like any good pressure washer, Simpson PS4240S comes with five nozzles which are very easy to connect. These five nozzles provide varying amounts of water pressure and soap. You can mix the soap in the detergent box and use any of the five nozzles for the required job.
Onboard Storage for Handy Equipment:
The equipment and components that compliment the cleaning process of the machine have an onboard storage on Simpson PS4240S. The advantages of onboard storage are pretty evident. You don't need to interrupt the cleaning to go in some other room and bring the components. Instead, everything you need is right there on the machine and is very handy.
Premium Tires:
Simpson PS4240S is probably one of the heaviest pressure washers for home use. But this should not bother you in the least because of the presence of high quality and durable pneumatic tires under the machine. These 13-inch tires are double sealed and make sure that the mobility of the machine on any surface is like a walk in the park. You can drag the machine along anywhere you like without any problem.
Customer Response:
The overall customer response for Simpson PS4240S is highly positive. It has proven its worth with smooth performance, ready to operate engine and easy mobility. However, it's important that you follow the instructions on the owner's manual, especially the ones regarding the quantity of oil needed for the engine. Of course some people have had problems with broken components on delivery but this is a delivery problem and has nothing to do with the machine itself. The water pressure of 4 gallons per minute on this machine is virtually unsurpassed by any other pressure washer for home use.
Conclusion:
Simpson PS4240S is certainly a class in its own regard. Cleaning driveways, cement sidewalks, furniture, walls and vehicles of all sorts is a simple and easy process with this machine. Its immense water pressure makes sure that you can do the cleaning in least possible time, while not wasting any time and energy. Besides, the machine itself is very durable and not only the physical structure is long lasting but the features also continue working efficiently for a long time. If you are a home user or even if you own a vehicle garage where you frequently need to wash your cars, this seems to be a great product for you.
Click here to purchase this product on Amazon.