The check engine light is on but the car runs fine. What's the story? These four scanning tools are made to help you get the inside scoop without visiting a mechanic first. They reveal the codes to help you diagnose the problem. Then they tell you which is the most likely repair needed.
If you're new to the world of auto scanning, these tools can all seem the same. Let's look at each one and see which will work best for your needs.
OTC 3111 OBD II, CAN and ABS Scan Tool
OTC was acquired by automotive parts giant Bosch. Bosch also owns Actron, so there are definite similarities between this scanner and the next two below. All of these four scanners are handy tools for the do-it-yourself mechanic.
The OTC 3111 reads three types of codes: On-Board Diagnostics II (OBD II) , Controller Area Network (CAN), and Anti-Lock Braking System (ABS). It works for cars manufactured from 1996 through 2010. Since it had its last firmware update in 2011 it won't work for cars or light trucks newer than 2010. The OTC 3111 reads OBDII codes from all manufacturers and ABS codes from Ford, Chrysler, and GM, and some from Toyota. It cannot read airbag fault codes (SRS) like the INNOVA tool described below.
This is a handy scan tool to have. It comes near to pro level quality because it does so much more than just read and clear codes. It can record and freeze data, show live information from the car while it is running, and graph the information, too. It explains the five-digit codes it reads, as well as the acronyms that appear. It also has the CodeConnect function to look up the most common repairs for problems it finds.
The OTC 3111 comes with a CD for a program called Scanning Suite. It runs on Windows XP and is compatible with Vista and 32-bit and 64-bit versions of Windows 7. This program can take the information from the OTC 3111 and print it to the computer. That way the user can keep a record of the car data. There's no need to take a laptop out to the car for this. The scan tool runs off four AAA batteries so it can save information when disconnected from the car. It can also be powered by just the USB connection from a computer or just the DLC connection from the car's battery.
More features of the OTC3111 scanner
1-year limited warranty
User can check OTC's website to confirm that the 3111 is compatible with the vehicle
Comes with DLC universal car connector cable, USB cable, CD with software, user manual, and carrying case
Needs at least 8V through the DLC connector to operate when scanning a vehicle (so trying to scan a car with a dead battery doesn't work)
Has auto power-off when running off just the batteries
User can change the tool language to English, French, and Spanish
Backlit LCD shows 128×64 pixels and has adjustable contrast
Actron CP9580 Auto Scanner with CodeConnect Trilingual OBD II, CAN and ABS Scan Tool
Other than the color of the housing, this Actron CP9580 scanner is almost exactly the same as the OTC 3111 described above. It has many of the same features and limitations. For example, the CP9580 is limited to domestic vehicles manufactured between 1996 and 2011 because it has no more firmware upgrades available. Like the OTC 3111, it can read OBD II, ABS, and CAN codes, and clear them. There is a lookup feature to explain what the codes and acronyms mean. CodeConnect shows the most common repairs needed for each code found. CodeConnect comes from a database over 3 million solutions from support calls made by car technicians, so it's much better than guessing at the fix needed.
The CP9580 graphs, records, and freezes live data. It doesn't come with a software CD or a USB cable, so it's not as computer-friendly out of the box as the OTC 3111. It does have a USB port in case there were a firmware update needed.
More features of the Actron CP9580 scanner
1-year limited warranty
Comes with just a user manual in English, French, and Spanish
Needs at least 8V through the DLC cable to operate in the car
Auto power-off when running on just the batteries (4 AAA)
Display is the same as on the OTC 3111, but there's no PC functionality
Actron CP9580A Enhanced AutoScanner Plus
The Actron CP9580A is the newer version of the previous scanning tool. It can read and clearOBD II and CAN codes, as well as ABS codes from cars manufactured by Asian companies, like Hyundai and Nissan.That makes it better than the CP9580 for foreign vehicle owners, and it's up-to-date for newer cars.
Its CodeConnect database accesses over 4.3 million suggested repairs, more than a million more than the CP9580. It cannot read OBD I or SRS airbag codes like the INNOVA tool described below. It also does not come with any extras, like a USB cable, software or a case. Some users have complained that this tool has to be updated right out of the box because it comes with older firmware and lacks the newer code information. Fortunately, Actron provides the upgrade software for download from their website.
More features of the Actron CP9580A scanner
1-year limited warranty
Software to upgrade the firmware is compatible with Windows XP, Vista, and 7 (32 and 64-bit versions)
English, Spanish, and French menus and definitions (but CodeConnect information is in English only)
INNOVA 3160 Diagnostic Scan Tool with ABS/SRS and Live Data for OBD2 Vehicles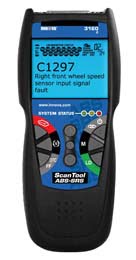 This scanning tool can do a lot more than the other three already reviewed. The INNOVA 3160 can read and clear OBD I and II, CAN, ABS, and SRS (airbag) codes on a wide range of domestic and many foreign cars, SUVs, and light trucks. This fact alone makes it a worthwhile purchase for someone who works on a variety of vehicles.
Like the other three scanners, the 3160 does much more than just read codes. It graphs and freezes data. It has code lookup and definitions, and a similar feature to CodeConnect called RepairSolutions that shows the most frequent fixes for problems. The RepairSolutions database gives parts needed, difficulty level, and estimated labor time so the user can decide if they want to make the repair themselves. This is a great feature to have!
The backlit LCD screen holds up to twenty pieces of vehicle information at a time so there's less need to scroll up and down. INNOVA also made the 3160 with "hot keys" so there's not so many menus to navigate.
Another handy part of this tool is the red-yellow-green emissions readiness LEDs. The user can know instantly if their car will pass the test. To make the 3160 even more user-friendly, the INNOVA website will showright away if the 3160 is compatible with the user's vehicle so no one has to waste money hoping it will work.
More features of INNOVA 3160 scanner
1-year limited warranty
Can run off 3 AA batteries or just the car's battery through the DLC connector
Comes with DLC cable for OBD II, USB cable, case, and a quick reference guide
A detailed user manual is available online
Menus and information are in English, Spanish, and French
PC Link software can be downloaded from INNOVA and it works with Windows or Mac
Recommendation
If you own a domestic car made in 1996 through 2010 and you want to read OBD II, CAN, and ABS codes, all of these tools will work for you. The OTC tool is especially nice because of its included PC software and accessories.
The Actron tools are useful if you don't need any extras. The CP9580 works for cars up to 2010/2011 and the CP9580A for both older and newer cars.
If you have a vehicle from an Asian manufacturer, you might be able to use either the OTC or Actron scanners, but the safest bet is the 3160 from INNOVA. The same is true for newer cars, SUVs, and light trucks dating from 2010 to 2015. Go to INNOVA's website and verify that the 3160 will do the job for you.
If you need to read OBD I codes, the INNOVA 3160 can do this if you get the correct DLC connector.
If you're reading SRS airbag codes, the only choice here is also the INNOVA 3160.
And if you happen to want to put the scanned data on your computer and you don't have Windows, INNOVA offers software for Mac.s