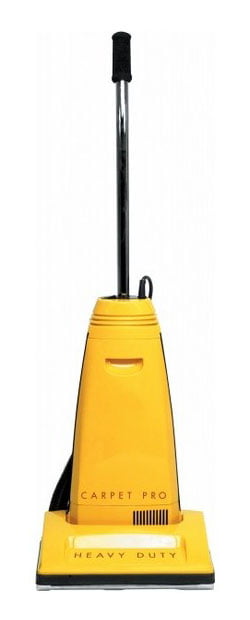 If you are to name two or three of the best vacuum cleaners in the market, Carpet Pro might not be one of them. But there should be no doubt in the fact that the company has produced some of the finest vacuum cleaners over the years. These vacuum cleaners are mainly aimed at home users and are thus slick in their design and efficient in their performance. CARPET PRO-CPU1 vacuum cleaner is one such machine from the company which can be placed at the forefront of the vacuum cleaners designed and manufactured by Carpet Pro.
Features on CARPET PRO-CPU1:
There are several useful features on CARPET PRO-CPU1 which a home user would find very helpful. The machine is fairly lightweight and provides easy mobility in narrow spaces. It comes with a durable metal handle facilitating solid grip. With this grip, you can have the complete control of the turning and swiveling of the machine during the cleaning process.
The length of the cord which you find on CARPET PRO-CPU1 is 40-feet. This is more than sufficient if you frequently perform vacuuming in large areas since you can continue the cleaning process without being interrupted at regular intervals. Just switch on the machine in one plug and then clean the space around without any problem. The special metal brush-roll featuring on this machine is very durable and its bristles provide reliable performance for a long time.
The machine is equally capable to perform the cleaning on carpets and on bare floors. It has been designed such that it can work with all floor types, curtains, cushions etc. without any need to change the settings every time you are working on a different kind of floor. Instead, the setting automatically adjust themselves according to the specific type of floor being cleaned.
Pros:
– Noise levels are lower than most other vacuum cleaners in the same price range.
– Compact design and lightweight with solid grip afforded by the metal handle.
– 40-feet cord which almost eliminates any need to interrupt the cleaning process even in wide spaces.
– Very reasonably priced compared to most other vacuum cleaners with similar specifications.
– Solid and durable design.
Customer Response:
Compared to other high-end vacuum cleaners designed by more well known companies, CARPET PRO-CPU1 enjoys little fame. But this has nothing to do with the personal performance or features of the machine. On that, it has garnered wide acclaim and praise from the consumers. Particularly people who worked at different places with the same vacuum cleaners were all praise for this machine, because they could just drag it around without rendering any serious damage. This is because of the solid metal build of the machine which guarantees extended life time. Powerful suction of the machine makes sure that dirt is sucked down to the minutest details and while doing this all, noise levels remain at a minimum. Even when the dirt bag is nearing its limit, the suction of the machine is not affected and it continues to perform with the same intensity.
Although the machine itself suffices for cleaning different kinds of floor, you can still make use of specialized components which are available from the market separately. Overall, this vacuum cleaner can easily be included among the most affordable and helpful cleaning devices available in the market.
Click here to purchase this product on Amazon.
Tagged with: CARPET PRO • CARPET PRO-CPU1
Filed under: CARPET PRO • Upright Vacuum Reviews
Like this post? Subscribe to my RSS feed and get loads more!