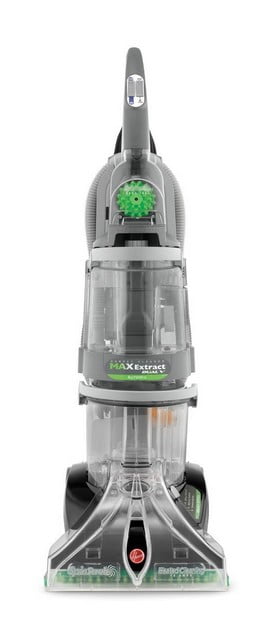 There are so many high-tech and fancy vacuum cleaners in the market today that it becomes very difficult to decide on one if you don't have any technical expertise. Good thing is that a lot of these vacuum cleaners are developed by companies with wide experience in the field and hence turn out to be quite reliable. This is particularly true about vacuum cleaners manufactured by Hoover. Hoover MaxExtract Dual V Carpet Cleaner F7412-900 is an example of these high-tech vacuum cleaners aimed at home users.
Specs on Hoover Dual V Carpet Cleaner:
A lot of features that are present on other high-tech vacuum cleaners from Hoover would be found on this remarkable machine as well. To begin with, just like the finest machines form the company, Hoover Dual V Carpet Cleaner is also equipped with the Spin-Scrub technology. With this technology in action, all the individual fibers of a carpet are washed and cleaned with utmost efficiency. Besides, there are three available settings for cleaning and washing, one of which you can use for any particular type of cleaning.
You will find a lot of automation processes on Hoover Dual V Carpet Cleaner, which means that you would have to exert least manual effort. The detergent mixing system of the machine is also automatic. With this system in action, all you need to do is add water to the machine and mix it with the detergent of your choice. After that, the machine would make the decision about the quantity of this mixture needed in a particular type of cleaning and you don't need to bother about that.
This important technology that is used in Hoover Dual V Carpet Cleaner is the Dual-V technology. With this technology, it is made sure that equal suction is distributed along the entire cleaning path to provide reliable performance. Powerful suction makes sure that water is sucked out of the carpet in no time, leaving the carpet as good as new. When water is not used in the cleaning process, this suction is powerful enough to trap all the dust and dirt in a very limited time.
Components and Tools on the Machine:
It is hard to imagine of a Hoover vacuum cleaner that does not come with a variety of useful components and tools. Same is the case with Hoover Dual V Carpet Cleaner. On this machine, we have the carpet and upholstery tool for cleaning carpeted stairs, curtains and carpets etc. Then there is the inevitable pet hair tool that is a must have for people who have pets. This tool makes sure that you are never bothered about annoying pet hair on your carpet or couch. Similarly, the crevice tool has its own dedicated function and is used for cleaning in narrow spaces. All these tools considerably enhance the functional power of the machine.
Conclusion:
Hoover vacuum cleaners generally need no praise, since they are already a market standard. For a home user looking for a quality vacuum cleaner that can last for a long time and that can continue to provide reliable performance, this one certainly is a great choice. Available at a very reasonable price, it also has a yearlong manufacturer warranty.
Click here to purchase the product on Amazon!