Home automation has come on a long way in recent years. Having a device or a piece of technology that can essentially do many of the mundane tasks in the household for you has always been seen as a futuristic concept however many of these designs are coming true to life. The iRobot Braava 380t is one such example and we are going to look at the device and its features.
Cleaning and mopping floors is hardly an enviable task so the simple question is: why not get something to do it for you? Basically the 380t roams your floors, cleans them and helps to keep dust and dirt away. A simple enough concept you may think but one that requires a lot of technological innovation. In this iRobot Braava 380t review we will explore several features of the device that claims to be a 'hassle free' alternative to manual housework.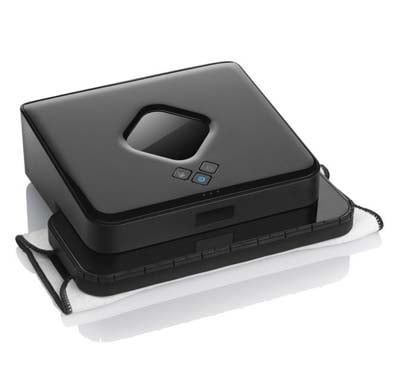 New vs. Old
The 380t isn't the first automated cleaner and it follows on from the 320 model. Probably the biggest difference between these two models and the one element that urges you to purchase the 380t is that it uses multiple navigation cubes which means it can roam around a larger surface area with ease. Indeed, the 380t can memorize the layout of a larger room than the 320 and also hold several rooms in its memory bank. As a reference, the 380t can cover 1,000 square feet of dry sweeping and 350 square feet of mopping; a significant upgrade on the 320.
Multiple Pass Technology
Perhaps one of the main downsides to home cleaning automation devices is that many of them simply sweep over the surface area once and leave it at that. The iRobot Braava 380t is intent on getting even the toughest stains and marks out of your hardwood flooring so it makes multiple rounds around the room to ensure that, not only is everything covered, but that tough stains are eliminated too. This actually came from the highly praised Roomba automated vacuum series from iRobot.
Ease of Use
It is all very well saying you can just turn on the 380t and let it do its thing however how easy is it to setup and use? In a word, simple. The whole set up process is straightforward and it is easy to see when the cloths need changing. The thing with automated devices is that, oftentimes, they require more input than the user would like however with the 380t once you set it up you just need to leave it to do its work with minimal intervention.
No home automation device is perfect but the iRobot Braava 380t comes close with smart technology,a multiple pass system and offers a significant upgrade on the 320. It's ability to avoid stairs and carpets with its navigation system and also clean along walls and baseboards make it a standout device in the home automation market.
Click here to purchase this product on Amazon.