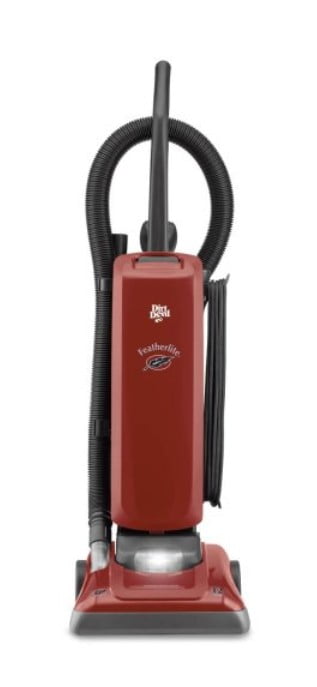 If you are looking for a light weight and inexpensive vacuum cleaner, the Dirt Devil M085590RED can be the one for you. This bright red cleaner is more fun than most other options available as its quite light and comes with a 12 amp motor which can pretty much take on any kind of surface for cleaning well. Luckily for you, the cleaner ships in with a certified Frustration Free Packaging, making it a breeze for you to unbox and assemble this neat little machine.
Lightweight
When we say lightweight, it really is lightweight weighing only 12 pounds in total! That solves a lot of problems for many as it can be lugged around easily and without tiring your arms, while doing a great job of cleaning up your surroundings.
Onboard Tools
The various tools that help in making cleaning a more efficient experience have to be at arm's length for use as and when required. The Dirt Devil M085590RED has all these tools stacked up on the machine itself and you don't have to go around looking for the long forgotten boxes to find a tool that you want to use.
Stretch Hose
While most vacuum cleaners come with a standard hose, the Dirt Devil M085590RED has a stretch hose which allows you to maneuver to blind spots and far away locations which are difficult to clean normally.
Bright Headlight
Dust and grime can be hidden in the most obvious areas and if you cannot see them, you might miss some important spots to clean. The Dirt Devil M085590RED provides a bright headlight that shines on the area it is cleaning so that no spots are missed and you can inspect whether any further cleaning is required before moving on.
Automatic Height Adjustment
This is a great feature for using the cleaner over varied surfaces. The automatic height adjustment lets you clean up not just the floors but other areas as well which would be difficult to clean otherwise.
Bagged Design
The dirt bag design helps in isolating all the dirt collected for throwing away at regular intervals.
MicroFresh Filtration
Like other brands, the Dirt Devil M085590RED also has a filtration setup that traps up to 99 percent of dust and allergens thereby keeping your house squeaky clean.
Negatives
Many users have complained of the loud noise this machine makes while in use. Other models have a much quieter sound when on. Some believe that at its price point the quality of material used is not up to the mark and looks cheap.
Verdict
A majority of users feel the suction on the Dirt Devil M085590RED is great. However it should be noted that some of the high end features that other vacuum cleaners have are obviously absent in this one. With a strong 12 amp motor and a straightforward design, the Dirt Devil M085590RED is going to be a loyal cleaner for most. But if you are looking for something which is more feature rich, it might be a good idea to look at some other models if you can raise your budget higher.
Click here to purchase this product on Amazon.