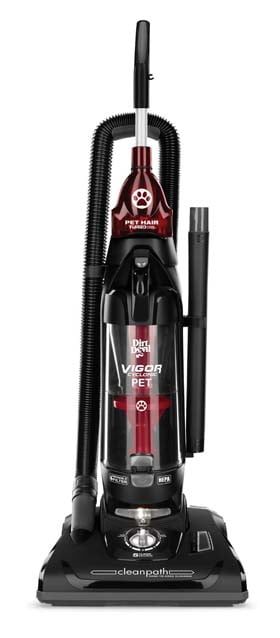 Dirt Devil has produced some of the finest quality vacuum cleaners over the years. Among the entry level vacuum cleaners from the company, Dirt Devil UD70222 is a well know name. Available at a very reasonable price, this machine is a perfect solution for cleanliness problems of your home or working place.
Features you find on Dirt Devil UD70222:
The cyclonic nature of the filtration on Dirt Devil UD70222 is one of the most powerful specs that you would find on the machine. With this cutting-edge filtration system, you can easily clean through any mess that comes your way. Powerful suction is the main aspect of this filtration system and this suction makes sure that you get the cleanliness you were looking for. Minutest dust and dirt particles are sucked and clean during the cleaning process.
Five choices of height adjustment are available for you on Dirt Devil UD70222. These height adjustments can be varied according to the requirement using a switch available at the bottom of the machine. Height adjustments are a great facility if you indulge in cleaning different kinds of floors with varying height levels. Besides, you can also adjust the cleaning and suction level as per the requirement of a particular floor.
Dirt Devil UD70222 is integrated with HEPA filters with their impeccable design and reliable performance. These filters have the ability of trapping 99.97% of dust and dirt while making sure that the surrounding air remains clean. Particles are sucked and cleaned down to the level of 0.3 microns. These HEPA filters are also very durable and last for a long time. After using a filter for some time, you can simply clean it by rinsing and washing under a running tap. This durability of the filter removes any need to purchase extra filters at regular intervals and thus significantly reduces the overall cost for you.
Several tools and accessories are available with the machine to facilitate the cleaning process. This includes a pet hair removal tool that has been specifically designed to target and clean pet hair from carpets and cushions. If you happen to be an owner of a pet, this tool would be perfect for getting rid of the pet hair problem at your place. Then we have a 35 feet power cord which is long enough to perform the cleaning in moderate and even large sized room.
Consumer Response:
Overall response from the consumers about Dirt Devil UD70222 is quite positive. A lot of users have praised the simple functionality and reliable performance of the machine. Range of attachments and tools available for specialized cleaning is also well appreciated. Plastic wheels present under the bottom of the machine make mobility extremely effortless.
Conclusion:
Among the low-end vacuum cleaners, Dirt Devil UD70222 is certainly a very decent choice. If you are wary of fancy vacuum cleaners with a lot of noise and low performance, this would be a good change for you. Along with its one year manufacturer warranty and reasonable price, Dirt Devil UD70222 will give you all the features a home user can ask for.
Click here to purchase this product on Amazon.