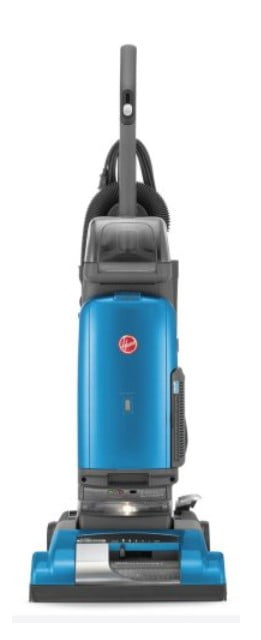 Effective cleaning is as important as anything. The Hoover Wind Tunnel Anniversary Upright Vacuum keeps things simple yet ensures that it gets the job done and does it well. Using features like patented Wind Tunnel technology and Embedded Dirt Finder, this piece of equipment is sure to be a permanent fixture in your house. The Hoover Wind Tunnel Anniversary Upright Vacuum scores over others on common sense. It keeps power controls positioned just at the right places and focuses more on ease of use than just performance.
Embedded Dirt Finder
Available in some other models of the Hoover range as well, this nifty technology allows you to check whether a particular area has been rid of dust or not. Till the time it's not, the vacuum will glow red, and turn green when it's clean. Most customers were happy with this new feature as it helped them to know what is clean and what is not.
No Scuff Bumper
It is obviously not possible for you to be extra careful every time you vacuum your expensive furniture. The Hoover Wind Tunnel Anniversary Upright Vacuum makes it easy for you by protecting you furniture with its no scuff bumper. Some customers especially liked this feature as it helped in saving expensive furniture from getting spoilt by the cleaner.
5 Position Carpet Height Adjustments
You may have cleaning requirement in different areas which may or may not be on the same plane. The Hoover U5491900 sorts this out for you with a five point adjustment that helps you clean everything.
29 inch Power Cord
It can get quite irritating pulling out and putting in the power cord every few steps you take while you break your own back cleaning up. The U5491900 gives you a 29 inch power cord which will suffice in most large spaces and let you concentrate on the cleaning alone.
Wind Tunnel Technology
The patented Wind Tunnel technology minimizes blowbacks or scatters on the carpet and easily removed embedded dust from all surfaces.
Negatives
Some users have pointed out difficulty in adjusting the beater bar height while others have been annoyed with the tools falling off the back when vacuuming. These are only minor issues which can be resolved.
Most users loved the fact that this machine was lightweight and easy to carry around. The build quality was compared to Dysons by many who felt it was a great deal at a much lower price point. Easy assembly was another plus point for many who quickly put it together and started using it. In effect, these features helped solve the one major problem most vacuum cleaners have – that of portability. The U5491900 is quite portable and maneuverable.
In all, the U5491900 is product that does not disappoint. Some users swear by it while others are happy with the way it functions. The machine is ideal for everyday use and with its various features. It is easy to use and provides just the right tools for different areas it cleans. Make it yours if it fits the bill but be assured that you would be investing in a quality product.
Click here to purchase this product on Amazon.