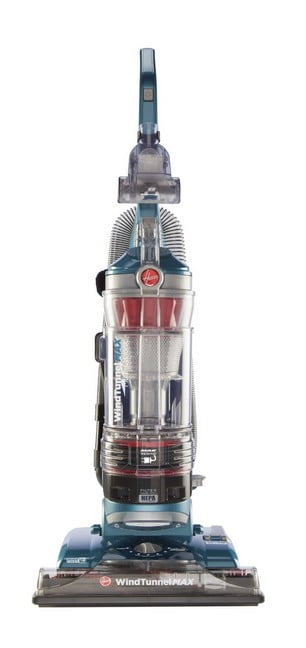 Hoover is one of the well-known brands that create some quality vacuum cleaners. This can be seen in the new Hoover Windtunnel Max Multi-Cyclonic Bagless Upright Vacuum or the UH70600 as well. The Hoover UH70600 cleans efficiently with minimal struggle. The 12 amp motor is just perfect for clearing out all that dust from under your feet. Think of all the different surfaces you might want to use this on and take it for a spin – you will be surprised how well it works on almost any surface you throw at it – be it carpets, rugs or hard floors.
28 Feet Automatic Cord Rewind
This is one feature that everyone loves. It does not require you to make any efforts. It automatically rolls up the wire in a jiffy with the press of a button! Now you can continue to be lazy while the Hoover UH70600 does all the work for you.
Fabulous Filtration
The three main filter types on the machine include the multi-cyclonic filtration, rinse-able primary filter and the high quality final filter made with HEPA media. These three bring together absolute performance and can be cleaned out very easily to maintain efficiency.
System Check Indicator
Every now and then we get too busy with our lives and don't bother to check if the machine needs any TLC. The Hoover UH70600 keeps an automatic check on systems. It will let you know when the filters require a cleanup.
15 inch Nozzle
Just the idea of going over multiple patches of that carpet can be a daunting task when you are on your cleaning spree. The Hoover UH70600 provides you with a large 15 inch nozzle to make your life easier. Now you just need to go over areas once and it takes care of covering a large portion in one go.
20 inch Extension Wand
You see the tiny specs of dust up on the frames that you can never reach? Wouldn't it be disappointing when you have cleaned up everything else but just can't reach some areas in the house? The Hoover UH70600 comes to the rescue yet again. This time it's the 20 inch extension wand that does the magic trick. It extends out to places where your hands could never reach.
Upholstery/Dusting Brush
Cleaning is incomplete if upholstery is not dusted of all the grime and dust that gathers in it regularly. While most vacuum cleaners may clean your floor surfaces well, few have decent tools for cleaning your upholstery. The Hoover UH70600 is one of them.
Negatives
Some customers have complained of a strong rubber smell when using the machine. The dirt canister has created problems for some as the door is on the bottom and requires some force to open which can create a bit of a mess if not done right. Others feel it is a tad bit loud on the ears when running.
Verdict
The Hoover UH70600 does a much better job than most sub 100 dollar vacuum cleaners in the market. It has some of the top class features that a vacuum cleaner worth its money should have and uses technology smartly, not just to create a more efficient cleaning experience but also reduce the hassles of the customer. All in all, the Hoover UH70600 is a decent buy.
Click here to purchase this product on Amazon.