Generac 6412 is one of the most versatile and innovative pressure washers form the company which has been designed to provide dedicated requirements for specific kinds of cleanings. For instance, there are dedicated settings on Generac 6412 for different kinds of cleanings. High water pressure and powerful performance allow Generac 6412 to be included among the top pressure washers from Generac.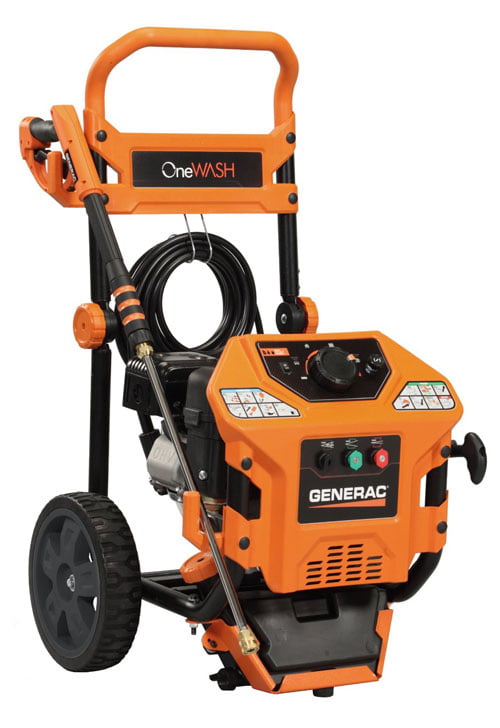 Multiple Cleaning Settings:
One of the most unique aspects of Generac 6412 is availability of separate dedicated settings for separate kinds of cleanings. For instance, there are specific settings for washing and cleanings of vehicles, driveways, decks and masonry. These dedicated settings allow you to adjust the water pressure and timing for different surfaces.
Powerful Engine:
Generac 6412 is fitted with a powerful engine which makes it suitable to fulfill all sorts of needs of a home consumer. Its engine can deliver PSI rating up to 3000 and it gives a water pressure of 2.8 gallons per minute. This high water pressure saves you considerable amount of time during the cleaning process and also makes sure that no water is lost. There is a perfect balance between the axial pump and the engine, with the later located well above the ground thus providing easy hose connections.
User Interface:
There is a neatly defined control panel at the top front of Generac 6412. This panel displays all the settings of the machine, easy to understand and operate. Making operational adjustments and using different settings is very simple with this user interface. There is a special LED indicator on the front side which blinks if the oil or water level in the machine is low and it needs to be refilled. So you don't have to bother to check the fuel level at regular intervals. In case the fuel supply is very low, the machine shuts down automatically in order to avoid any kind of damage.
Choice of Cleaning Tasks:
Adjusting your machine as per the requirements of a particular cleaning task is a breeze with Generac 6412. Using the up-front control panel, you simply have to select one of the four cleaning settings. Generac 6412 would itself provide appropriate water pressure and flow for your chosen cleaning task.
There are 11-inch wheels under Generac 6412 designed to provide easy mobility regardless of the nature of the terrain. Finally, we also have a folding handle, like several other pressure washers from Generac, using which you can simply fold the machine into a very compact form. This compactness of the machine provides easy storage.
Conclusion:
Pressure Washers from Generac have a record of high quality performance for a long time. Other than the actual performance and versatility, the assembly of these machines is also very simple. Then the user controls are simple and straightforward and if you find yourself struggling with the settings of pressure washers, this machine can make the task very simple for you, because it can automatically adjust itself according to the specific cleaning type that you select from the control panel. Finally, two year manufacturer warranty further increases the worth of the device.
Click here to purchase this product on Amazon.