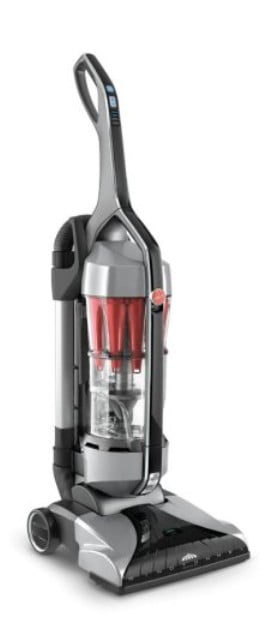 If the dirt and grime isn't obvious to the naked eye, it does not mean it will go away. The new Hoover Platinum Cyclonic Bagless Upright Vacuum Cleaner uses an embedded dirt finder (EDF) to tell you whether the area is clean or not! This machine packs in a long list of features that will give your cleaning experience a whole new meaning and dimension. Bundled with advanced technology, this machine removes more dust than other models in the same range and uses HEPA media and EDF and other features to make sure your floors remain spic and span.
Multi-Cyclonic Filtration System
A vacuum cleaner would be redundant if its suction technology is inadequate. The UH70015 understands this simple fundamental and use a multi- cyclonic filtration system that assures you of no loss in suction while it's in use.
Rinse-able Filter
The primary filter that collects all the dust and other items sucked into the machine can be easily removed and rinsed in the basin for a proper clean up before putting it to use again. This improves the efficiency of the machine as it avoids clogging.
Embedded Dust Finder
This is perhaps the USP of this machine. The EDF reads out "DIRTY" while you clean and turns green automatically when the area is dust free. This feature uses real time sonic technology to give you this amazing edge and satisfaction of knowing whether a particular area is clean or not.
Onboard Tools
With cleaning requirements ranging from basic floors to complicated areas, the UH70015 uses various different tools effectively for removing dust even from the most stubborn places.
14 inch Nozzle
In the case of carpets and other large areas, it can get quite cumbersome to clean up with repeated passes. The UH70015 comes to the rescue with a 14 inch nozzle which can easily clean up a large section of the area you are covering in a single pass making it easier and much faster to clean up.
Upholstery/Dusting Brush
The upholstery/dusting brush is a neat additional tool that helps in cleaning items placed above the floor level including sofas, frames or other items that might be difficult to reach and clean.
Bottom Empty Cup
A vacuum cleaner is only effective is it can be emptied and reused quickly. Complicated contraptions that take time for cleaning up don't work with customers. The UH70015 uses a simple clip system that empties out the dirt cup and you are ready to go again!
Negatives
The Hoover Platinum Cyclonic Bagless Upright Vacuum is a great machine. However, users have expressed reservations about its ability to clean up under furniture. The maneuverability isn't as great as other models out there. Another issue pointed out by some is the short length of the hose which makes it difficult to use some of the additional accessories provided.
Verdict
In all, the UH70015 is a great product. It would auger well for those who do not have too many cramped up spaces and love a no-nonsense, efficient machine that will promise ease of use and deliver on cleanliness. And let's face it – who doesn't like a machine glowing green over your carpets when you sit back with the surety that your surroundings are clean.
Click here to purchase this product on Amazon.