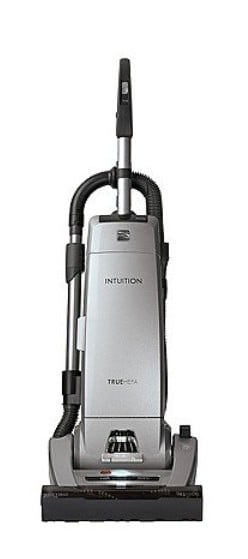 Kenmore Intuition 31810 is among the leading bagged vacuum cleaners manufactured by Kenmore. This vacuum cleaner with its impressive build quality and unique features has garnered much attention and appreciation by the customers. Whether you are performing the cleaning operation on bare floors or carpets, this vacuum cleaner provides reliable performance. The design of this new vacuum cleaner is also such that handling it is very easy and you can continue the cleaning process for long time without straining yourself. Even though the machine provides very powerful performance, it keeps the noise levels down to the minimum degrees.
Efficient Dirt Management:
Clearly the important purpose of a good vacuum cleaner is efficient dirt management and on this front, Kenmore Intuition 31810 has satisfied a lot of customers over the years. There is a special dirt sensor on the machine which detects dirt particles in narrow spaces and where you cannot see it. Using this sensor, you can clean dirt and dust down to the minutest degrees. Dirt management is obviously the main thing that a vacuum cleaner has to do and this machine does it very well.
Efficient Onboard Bag System:
Presence of a durable bag on the vacuum cleaner is necessary so that dirt is trapped reliably. Besides,the durability and long lasting capability of the bags is also important. On this front Kenmore Intuition 31810 once again does not disappoint and continues to perform well. The power flow bag system of Kenmore Intuition 31810 consists of dual chambers due to which overall performance of the machine is maintained over long period of time without any loss of suction.
Accompanying Attachment:
Just like any good vacuum cleaner, Kenmore Intuition 31810 also comes with several tools and components that compliment the process of cleaning. These tools and components are designed specifically to assist cleaning on different kinds of floors. For instance, you can use the special pet tool which can be used to get rid of the annoying pet hair from cushions and carpets. Easy and efficient cleaning is also facilitated with the help of the special telescoping wand made of aluminum.
Advanced Filtration System:
In accordance with most of the finest high-end vacuum cleaners in the market, Kenmore Intuition 31810 is also fitted with HEPA filters. These filters make sure that, during the vacuuming process, dust particles do not escape into air. Presence of this technology makes this machine highly useful for people suffering from dust allergies.
Pros:
– Low noise levels.
– Aluminum wand with adjustable length.
– Rubber wheels under the machine to avoid scratching and noise while moving the machine.
– Presence of special dirt senor light.
– Availability of lifetime belt system.
Cons:
A friend who used this vacuum cleaner had to complain only about one problem. This problem is the awkward placement of the hose on the handle, which makes using it a bit of a problem sometimes.
Verdict:
Judging from the features of the machine and the response of the customers about it, Kenmore Intuition 31810 can easily be included among the finest vacuum cleaners in the market with elegant design. If you are looking for a mid-range vacuum cleaner for your home that can deliver reliable performance without any hassle, you should definitely keep this vacuum cleaner in the list of machines that you are considering.
Click here to purchase this product on Amazon.