When it comes to providing consumers with top-quality inkjet printers at a reasonable price, there are only a handful a company's that seem to tick all the boxes, one of which is Brother. Since the introduction of Brother's first computer printer back in 1971, the company has excelled phenomenally in creating multi-functional printers that are fit for a wide range of purposes and people.
The Brother MFC J805DW and the MFC J995DW are two fine examples of just how far the company has come over the past several decades. Not only are they both easy on the eye, and easy to use, they're both highly functional. But which is the better model overall?
Brother MFC J805DW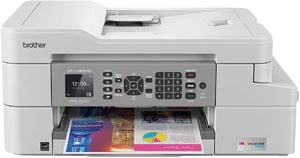 The Brother MFC J805DW is a high-quality inkjet printer that would suit most home or office users.
When it comes to print quality, the level of detail in photos is good with colors looking saturated.While text is slightly less clear, with just a hint of fuzziness, it's still perfectly acceptable.
As well as having the ability to print up to12pages per minute for monochrome prints and 6 for color, the Brother J805DW is capable of copying documents and/or photos and scanning them.And, it's also capable of duplex printing.
The paper tray is capable of holding up to 150 sheets per time while the auto feeder capacity is 20 sheets. It has a 1.8" color LCD display that's clear and easy to operate, and its connectable via Wi-Fi, so you can print effortlessly and wirelessly from any linked desktop, laptop, smartphone, or tablet.
Reengineered ink cartridges enable more ink to be held meaning more printing and less interruptions. And thanks to the printer's handy Page Gauge you'll know exactly when your ink needs to be replaced and how much more printing you can do first. It even comes with 1-years' worth of ink (based on an average print of around 150 pages per month).
Brother MFC J995DW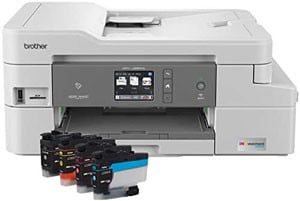 The first thing to note is the J995DW has a slightly better print speed than the J805DW when printing in color and can do up to 10 pages per minute. In black and white, they are of equal performance with 12 pages per minute. Both the paper tray and auto document feeder capacity are both the same too – 150 sheets and 20 sheets respectively.
You also get a much larger touchscreen LCD display (2.7") to play around with on this printer. Everything on the screen is so very clear and easy to follow. It also comes on almost instantly upon pressing the power button and lights up with some very easy instructions for you to follow. And as well as being connectable by Wi-Fi, it's also ethernet ready.
The print quality on the J995DW is also a lot better than the J805DW with the detail being so accurate that photos appear to have a professional finish. There's less fuzziness in text documents too. And, as with the J805DW, it offers duplex printing.
Being an all-in-one printer, it also has the same ability to scan and copy documents and photos to the same high standard as the J805DW.
Recommendation
If you're looking for an entry-level inkjet printer that's functional and made by a company whose reputation exceeds them,then the Brother MFC J805DW is an excellent choice. It's high-quality, efficient, and it's affordable. If, however, you don't mind spending a little extra, you may want to consider the Brother MFC J995DW instead. It's got a much bigger touchscreen for easier control, it's ethernet-ready, and it's faster when printing in color than the J805DW.
At the end of the day, both are extremely good printers offering great functionality. Now, it's just a case of deciding which will better suit your needs. Is a basic but efficient model for you (i.e. the J805DW), or would a faster, more high-tech machine (i.e. the J995DW) be more up your street? You decide.