Both Fujitsu and Epson are world renowned brands offering a whole range of top-quality products. But when it comes to color duplex document scanners, there's only a need for one. Will it be the Fujitsu ScanSnap iX1500 or the Epson WorkForce ES-500W? Before we give you our opinion, let's look at them both in a little more detail.
Fujitsu ScanSnap iX1500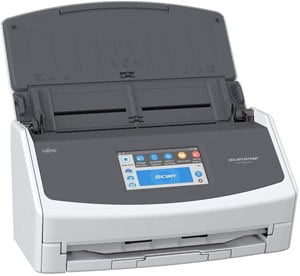 When looking for a reliable duplex document scanner, one model that's almost certain to appear in your search is the Fujitsu ScanSnap iX1500. It's a model that really hot on the market currently, and with good reason, too. Not only is it a product that's of high quality in terms of functionality, it's also a very aesthetically pleasing scanner that will enhance any office or workspace.
Being made by Fujitsu, it should come of no real surprise that it performs as you'd expect. With the ability to scan clearly both sides of a document, business card, receipt, or photo, and being compatible with both Windows and Mac operating systems, what's not to like?
At just 11.5 x 6 x 6.3 inches, the Fujitsu ScanSnap iX1500 is pretty compact. But don't let the fact that it's smaller than the Epson Workforce ES-500W put you off, as it still packs a good punch.
If you're someone who loves techy features, then perhaps one of this scanner's highlights is it's 4.3 inch touch screen. With just a few simple clicks you can access any function this scanner has to offer, including the creation and editing of user profiles and scanning via Wi-Fi to various cloud services such as Google Drive or Dropbox.
Epson WorkForce ES-500W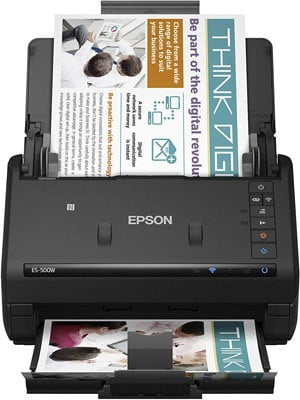 In comparison to the Fujitsu ScanSnap iX500, it's a pretty fair fight in terms of both quality and functionality. As with its rival, the Epson WorkForce ES-500W is also a color duplex document scanner which can easily stack and scan up to 50 pages at once. And it too is compatible with both PC and Mac systems. However, if speed is what you're looking for, then you've hit the jackpot with the Epson WorkForce ES-500W. With the ability to scan up to 35ppm, it wins hands down against the Fujitsu ScanSnap iX1500's 30ppm.
Both scanners come equipped with adequate software to enhance your scanning experience and help make your life that little bit easier. But one of the biggest selling points for the Epson WorkForce ES-500W is that it includes a TWAIN driver making it compatible with virtually any document management software out there.
Thanks to Epson, another great feature this document scanner has to offer that its competitor doesn't is the use of Epson's Image Processing Technology. This enables intelligent color and image adjustments to be made with ease using tools such as auto crop and background removal.
In terms of size,the Epson WorkForce ES-500W measures in at 11.6 x 6.9 x 6.6 inches, meaning it's a little bigger than theFujitsu ScanSnap iX1500. And weighing 8.1lbs, it's also more than half a pound heavier too.
Recommendation
When it comes to scan quality, both products are extremely good at what they do. They both scan high quality documents efficiently and with ease. Both appear to be made to the highest standard, coming from brands that have been around for a very long time and both have integrated software that helps to label and organize your scans.
If the most important feature of a scanner aside from quality is speed, then you may want to steer in the direction of the Epson WorkForce ES-500W. With this model, you can scan more per minute than its rival. However, if space and looks are more of a priority, then be sure to check out the Fujitsu ScanSnap iX1500.