Champion Power Equipment 76522 is among the most powerful high-end pressure washers for home use. Having a PSI of 3000, this machine can deliver up to 2.5 gallons of water pressure per minute. The overall structure and build of the machine is solid with an elegant design and smooth performance.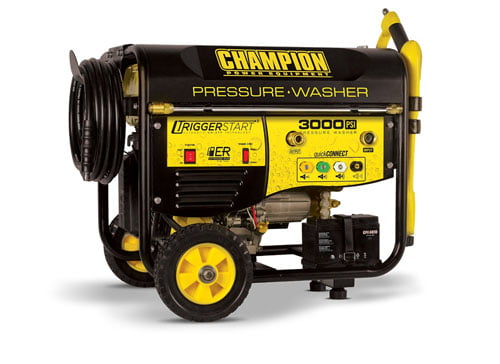 Easy Assembly of Components:
Even before you see the actual performance of the machine, you encounter with its assembly and a machine which is hard to assemble leaves a bad impression which remains even if its performance is good. But the assembly of Champion Power Equipment 76522 is fairly simple and takes about 10 minutes. You need to tie a few screws and it does not require any kind of technical expertise.
Distinguishing Features:
Champion Power Equipment 76522 is in the class of most powerful pressure washers for home use. Its extended gas tank can accumulate large amount of fuel and can work continuously for 8 hours. Another good thing is that the controls of the machine such as water in, outlet, restart etc. are placed at the front of the machine. So with these controls at the front, you don't have to go to the back of the machine every time you need to change the controls. The mechanism of electric start makes the operation even easier but you only have to pull the trigger and the engine would be ready to run.
There are also four stainless steel wands that you can use with Champion Power Equipment 76522. These different wands provide varying amounts of water pressure and can be used for different surfaces. There is a storage area for all the accessories onboard so that you won't have to interrupt your cleaning every time you need a tool.
Champion Power Equipment 76522 is also CARB certified to be sold in all the 50 states of the US, unlike several other pressure washers which have limited CARB certification.
Overall Performance:
Champion Power Equipment 76522 works like a charm on all sorts of surfaces and vehicles. After you put in the oil and water, the start time of the machine is negligible and it seems instantaneously ready for use. The options of auto off and restart also work fine. This feature is particularly useful because it saves fuel and water and also makes sure that the machine shuts off in case any technical problem is found.
User Concerns:
The placement of the battery on the machine seems a bit out of place. Even still, it works perfectly well with high pressure hose but working with low-pressure hose presents a problem because it tends to depressurize the system and water occasionally dribbles into the battery. Although this might not be a problem with respect to electricity because it is a low voltage machine, but still it can cause erosion in long run. An easy solution to this problem is to cover the chassis and the hose connections with plastic. But still the company should consider changing the position of the battery.
Click here to purchase this product on Amazon.