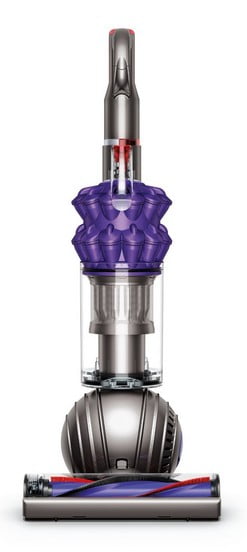 Dyson is a company that is known for developing vacuum cleaners with unique design and innovative technology. Dyson DC50 is among the latest class of high-tech vacuum cleaners from the company which showcases a lot of unique features. Besides, the design of the machine is an innovation in itself. With remarkable engineering and high performance, this is certainly one of the best vacuum cleaners from the company.
Technologies used on Dyson DC50:
Dyson is one of those vacuum cleaners where you would find the latest high-tech features hardly found on other vacuum cleaners. Although these high-tech features result in price increase, they nonetheless are worth more than the money. To begin with, Dyson DC50 is equipped with Dyson's special Ball technology that aims at smooth steering and swiveling of the machine during the cleaning process. This technology removes any limitations associated with fixed wheels and instead relies on balls that make steering as smooth as wind. The balls are made of highly durable material and last for a long time without slightest wear and tear.
Instead of relying on bags to trap dust like the conventional vacuum cleaners, Dyson DC50 makes use of Cyclone tech. Ordinary vacuum cleaners use bags and bad thing about bags is that they are prone to reduce the suction efficiency. This is because dust particles can any time get trapped in the small pores of the bags reducing the efficiency. Thus eliminating the use of bags and instead using the cyclone tech is a perfectly viable solution for this problem. With this technology in place, air in spun at very high speeds. This air then pushes all the dust and dirt into the bin in no time.
Another distinguishing technological feature of Dyson DC50 is that the brush bar of the machine is made of nylon bristles and filaments made of carbon. These filaments and bristles remove the dirt that is embedded deep in the carpet fibers. Besides, the base plate of the machine adjusts itself automatically according to the height and type of the floor, thus eliminating any need for manual adjustment.
Tools with Dyson DC50:
Of course there are a lot of tool that can be used with Dyson DC50 for specialized cleaning. Among the tools we can include turbine tool for extra-efficient cleaning, release wand for cleaning hard to reach places, pet tools to get rid of all the annoying pet hair in your living room, and upholstery tool for cleaning over the stairs.
Verdict for Dyson DC50:
Dyson DC50 has certainly caused a ripple in the industry of vacuum cleanings, thanks to its high-tech features and precise performance. The machine can easily be included among the vacuum cleaners that have more high-tech features that any other vacuum cleaners in the market. If you are ready to spare a few bucks, which would guarantee you the kind of cleaning you have never seen, this vacuum cleaner is certainly worth having. Besides, it comes with 5 year manufacturer warranty which is more than enough to try your hand on it. Automation and technology on the machine also makes sure that you are saved from manual operations and minor maintenance costs.
Click here to purchase this product on Amazon.