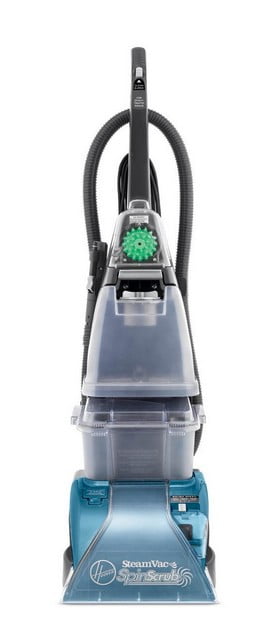 Are you a looking for an efficient steam vacuum carpet cleaner? Then you should give the Hoover F5914-900 a try. The general consensus by consumers who have tried the steamvac all agree that it delivers fantastic results and is also very affordable when compared to the competition. When looking for a vacuum cleaner most consumers base their decisions on power, longevity, and of course, price. I can confidently say that the Hoover F5914-900 definitely meets those requirements.
Hoover F5914-900 Powerful Motor
Using a very powerful 12 amp motor allows the Hoover F5914-900 to do a thorough deep clean of your carpet. This helps to eliminate dirt, grime,and bacteria along with dust that otherwise would have been trapped when using regular vacuum cleaners. It deep cleans using hot tap water and carpet solution. What makes this steam vacuum cleaner even more powerful is the "Clean Surge" feature which shoots out the cleaning solution that helps to eliminate spots and stains.
What Separates Hoover F5914-900 from Other Steam Vacuum Cleaners?
1. Incredibly easy to clean unit: Many carpet steam cleaners just move the dust, dirt and bacteria from one location to the next, but what separates the Hoover F5914-900 from those other cleaners is the pop out brushes and collection tank that stores the dirt for easy removal. This ensures that you are not just "storing" the grime, but can safely and effectively remove it from your vacuum cleaner.
2. Fast Drying & Fast Cleaning: If you are expecting visitors, then this steam vac is definitely the carpet cleaner you'll want to have in your cleaning arsenal. It has a heated drying option that will allow the carpet to dry much faster than just allowing it to dry naturally on its own.
3. Multi-Functional: The spinscrub features can also be used on upholstery making this vacuum very versatile. You can also use it on stairs, and your furniture using the hand tool options that come with the vacuum.
4. Long Lasting: Unlike other vacuum cleaners, the Hoover F5914-900 has no belts, as that's the main issue found with other steamvacs as their belts break. Every vacuum supplied by Hoover you can also be assured has undergone rigorous testing in their American engineering lab. This testing is done to accelerate the usage to estimate the shelf life of the vacuum.
Why you should purchase the Hoover F5914-900?
Whether it is the spinscrub feature which is multi-directional for deep cleaning or the forced heated air, it's safe to say that this steam vacuum cleaner is a must have for anyone looking to keep their carpet clean. Not only will you have a cleaner carpet, but by using the extension tools for your upholstery you'll have cleaner furniture, drapes, and floors.
Keep in mind; you'll also have no messy tanks to clean, as the exclusive two tank system stores the dirt and grime in a separate area ensuring easy disposal. Of all the features though, the one that stands out most is the "surgecontrol", which allows you to get those stains removed from the areas of your carpet that are walked on the most.
These features and benefits alone clearly show you why you need the Hoover F5914-900. It's a great additive to your cleaning arsenal, and it provides extreme value for your money.
Click here to purchase this product on Amazon.