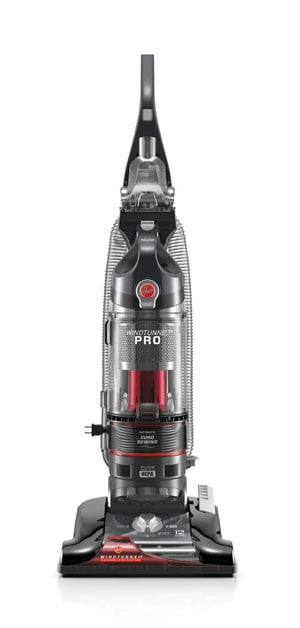 Hoover Wind Tunnel 3 Upright Vacuum, also known as Hoover UH70901, is among the latest and highly durable vacuum cleaners from the company. Hoover has an established name in the domain of vacuum cleaners and Hoover UH70901 stands out as one of the finest quality vacuum cleaners from Hoover.
Wind Tunnel Tech Integrated:
Hoover UH70901 is equipped with third generation of Wind Tunnel tech which is exclusive to Hoover vacuum cleaners. This technology has taken the vacuum cleaners to a new level by providing them extremely powerful suction making sure that dust and debris is sucked down to the minutest details. With this technology in place, the vacuum cleaner has three suction channels which make sure that suction power is significantly enhanced.
Multi-Capability Brush Roll:
The brush roll that comes with Hoover UH70901 has multiple capacities in a sense that it provides equal efficiency on floors as well as carpets and rugs. The power of the brush roll can be adjusted according to the floor type with a simple pressing of a pedal that is located at the bottom of the vacuum cleaners. The brush roll has also the capability of minimizing the scattering of the debris, thus making sure that not only the floor is cleaned but the surrounding air is also purified.
Reusable and Durable Filter:
Since Hoover UH70901 is a bag-less vacuum cleaner, this means that it comes with filters. The filters of Hoover UH70901 are highly durable and can be very easily rinsed and cleaned under running tap water. These filters can be dried within a few minutes after washing them and thus are ready for multiple uses in no time. This durability of the filters also saves maintenance cost since you rarely need extra filters. HEPA technology has been employed in the filters which provide air-tight suction and no dust particles can escape into air. This means that Hoover UH70901 is an excellent product for people who are sensitive to dust allergies.
Multiple Cycles of Air Passage:
Hoover UH70901 has highly efficient air flow making sure that powerful suction is provided on long term basis. With two cyclonic stages in place, air passes from two cycles. This means that the suction power of two levels is combined to provide extra-powerful suction making sure that dust is cleaned down to the minutest level.
Multiple Adjustments:
Hoover UH70901 has five different options which can be adjusted according to the floor type. For instance, there is a separate option for cleaning over floor and another one for vacuuming over wooden cardboards. These five setting considerably increase the versatility of the machine.
Accompanying Accessories:
There are several useful tools and components that accompany Hoover UH70901, in order to increase the versatility and cleaning ability of the machine. These components include the crevice tool which can be attached with the vacuum cleaner while doing cleaning in narrow spaces, pet tool to get rid of all the annoying pet hair and fur, and an extension wand. Hoover UH70901 comes with a 2 year manufacturer warranty, although it has been found to last for several years without any kind of problem.
Click here to purchase this product on Amazon.