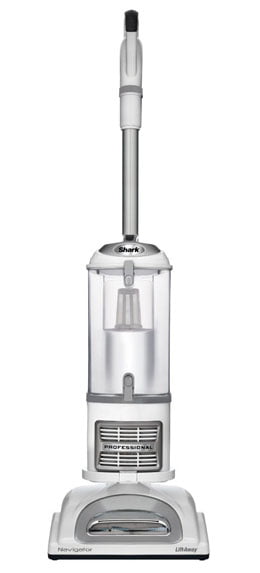 Shark Rotator Lift Away NV356E is No 1 best seller in commercial indoor Upright Vacuums.
Pros –
High Quality
Lightweight Design
Strong Suction & Deep cleaning capability
Cons –
Slightly Expensive
Small base. More work is required to cover the same area.
The Shark Rotator Lift Away NV365E vacuum is advertised as a high quality vacuum that is excellent for use on every surface. It's advanced cyclonic technology and deep cleaning capability make it a supercharged cleaning machine.
Design
The Shark Rotator Lift Away NV356E is designed to be lightweight and durable. The swivel turning lets you turn on a dime and get those sharp turns around couches without multiple strokes.
One thing that is impressive is the weight. Coming in at a very light 14 pounds it's definitely easy to carry and move around. Storing it high up on a hook or shelf won't be an issue.
Attachments
The lift away comes with an array of attachments including: Large turbo pet power brush, 8" and 24" crevice tools, dust-away hard floor attachment and duster pad, dusting brush, and lifetime HEPA trap.
The first thought when I see this list is "Do I really need all these attachments?". All that is really needed is a removable tube to get the areas not on the floor. They are nice to have, but will probably become clutter somewhere in the garage. Other than that, no negative points here. In the off chance that I do need the attachments they will be there.
Cleaning Power
This vacuum definitely tops the list with its cleaning power. The vacuum is very powerful, and has a fairly large capacity for dust. The "advanced cyclonic technology" separates the dirt from the air – ensuring the tubes will never get clogged with dirt. Over time the suction power won't erode from dirt and other objects stuck in the vacuum.
One issue here is with the base. At only 12 inches, less area is cleaned with each stroke than with a usual 18 inch base. This means you will need to use more strokes to cover the same amount of area. Although this is a disadvantage, there is definitely a lot of cleaning power in those 12 inches.
Verdict
If you are willing to spend about two hundred dollars for a vacuum this is definitely a good choice. Lightweight, great suction, and high quality make this vacuum great for any situation. For a high quality vacuum, it is on the lower end of the price spectrum and a great choice.
Click here to purchase this product on Amazon.