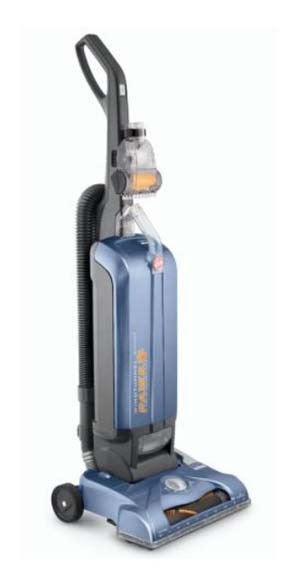 Hoover UH30310 is a remarkable vacuum cleaner from the class of bagged and upright vacuum cleaners from Hoover. There are a lot of innovative features on the machine to make is highly useful for home users. It's amazing wind-tunnel technology and remarkable HEPA filters are some of the features that have made this machine very popular in a very little time.
Technologies and Features on Hoover UH30310:
To begin with, Hoover UH30310 is equipped with the remarkable Wind-Tunnel technology system. This technology aims at maximizing the efficiency of the machine. With this technology in action, Hoover UH30310 makes sure that dirt embedded deep in the carpet fibers is removed to the minutest scale. Besides, the system also makes sure that the cleaned carpet is safe from any kind of scatter or stains.
This high-quality machine contains HEPA filters made with carbon which are the most highly recommended filters. Both for heath and cleaning purposes, these filters have proven advantages. For instance, these filters give you a guarantee that 99.9 percent dust particles would be efficiency trapped. Not only that, the filters also make sure that dust particles do not escape into the air. Thus the filters, on one hand, provide reliable cleaning for your floor and, on the other hand, eliminate any possibly of catching dust allergies. HEPA filters have the ability of capturing dust particles down to 0.3 microns which is the best you would get with any kind of filters.
The dirt bag on the machine can be cleaned without you even touching it. Once the bag is filled and needs to be emptied, all you need to do is push a button available on the machine. With this action, the dust bag is released directly into the trash, thus releasing all the garbage from it. Once empty, you can continue to use it for further cleaning. Besides, there is also a special indicator on the machine to check the level of dirt in the bag. Whenever the bag is full and needs to be emptied, this indicator tells you with a beep.
Tools on Hoover UH30310:
The crevice tool, just like on other vacuum cleaners, facilitates cleaning in narrow spaces. For instance, if you are cleaning your steps, you might want to clean the crevices between the steps. The crevice tool has been designed specifically for this purpose and provides utmost efficiency.
With a simple push button available on the machine, you can start or stop the working of the brush-roll. For instance, when you are cleaning on a carpet, you can start the brush-roll and while working on bare floors, you can choose to stop it.
Pros:
– Wind-tunnel technology for efficiency and reliable cleaning.
– Efficient HEPA filters with guaranteed results.
– Dust bags that can be cleaned without any effort.
– Net weight of only 15 pounds which makes the mobility easy.
– 30 inch power cord to facilitate cleaning in large areas.
Cons:
A minor structural flaw that a friend complained about is that when the unit is opened almost to the horizontal, it seems to bump into the hose connection. But this flaw is next to nothing when compared with the useful features of the machine.
Click here to purchase this product on Amazon.
Tagged with: Hoover
Filed under: Hoover Reviews • Upright Vacuum Reviews
Like this post? Subscribe to my RSS feed and get loads more!