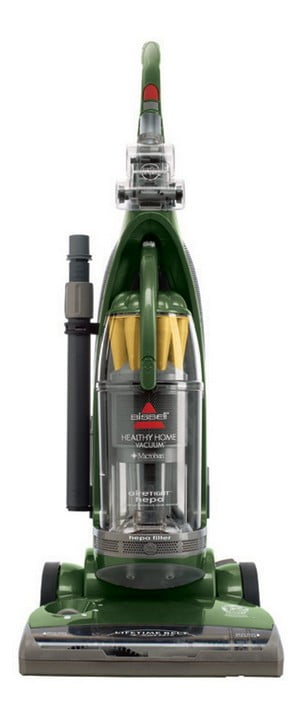 Some might argue that the aim of a vacuum cleaner is to clean. Period. Bissell however, chose to think differently and asks the fundamental question – what about the vacuum cleaner itself? Who will ensure it remains clean to give you the best experience? The bag-less BISSELL Healthy Home Upright Vacuum Cleaner, 16N5 tries to address this through this marvel of a machine. With Microban® antimicrobial product protection, the Bissell 16N5 ensures that it remains as healthy and clean as your home.
Microban® Antimicrobial Product Protection
While dirt, debris and other irritants are sucked up by your machine, it puts itself into harm's way by being continuously exposed to all these and more. The Bissell 16N5 uses antimicrobial product protection which is inbuilt into the system to make sure it's free of all the dirt, grime and mildew that accumulate on vacuum cleaners with repeated use. This helps in keeping itself and you safe and healthy.
Airetight® HEPA Filtration System
The HEPA Airetight Filtration system traps almost 100 percent of all dust when used with the Bissell 16N5 and takes care of over 99.9 percent pet dander.
9X Multi Cyclonic Cleaning System
The Bissell 16N5 uses centrifugal force to provide uninterrupted suction through its bag-less cyclonic cleaning system. This ensures that every time the machine is on, it provides optimal power and sucks out the most difficult and tiniest of all dust particles from your surroundings.
7 Surface Height Settings
Many vacuum cleaner models come with at most 5 surface settings for height adjustment. The Bissell 16N5 gives you 7 which means it can accommodate itself to go where most other machines will not reach and provide you complete peace of mind.
15 inch brush with ON/OFF
The 15 inch brush makes sure you can clean up a large section without repeated passes and shuts off when you want to use only the wand or in upright position.
Easy Empty™ Dirt Cup
The bag-less mechanism ensures that there are no messy sessions afterwards to clean and ready the machine again. The dirt cup is easy to empty out in your trash and lets you get on with the cleaning in a jiffy.
Negatives
While it is difficult to pull out too many cons with this particular machine, some users have felt that the dust bin hinge should be spring loaded. The rear wheels should be covered. And some feel it heavy but agree that with such a powerful machine, a little weight is acceptable.
Verdict
If you are particular about the health of your machine along with the cleanliness of your home, pick this one out as it does a great job of keeping itself healthy while it helps you clean your surroundings. Although it might have some issues, those are minor and can be overlooked for the overall value for money and power packed cleaning experience you would getting with this great machine.
Click here to purchase this product on Amazon.