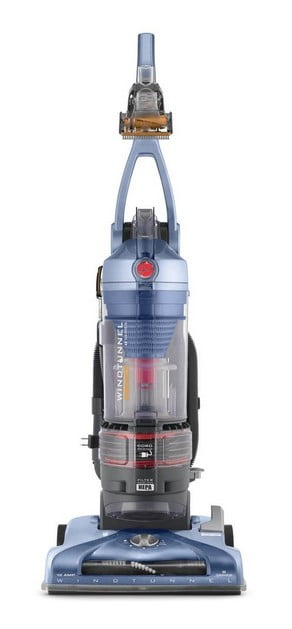 Hoover is a renowned name in the industry of vacuum cleaners. The company has distinguished record of manufacturing high quality vacuum cleaners for home and commercial use. Hoover UH70210 is among the products of the company that are equipped with cutting-edge technology and can compete with any other vacuum cleaner in the market.
Features on Hoover UH70210:
The physical structure of Hoover UH70210 is extremely compact and efficient when it comes to storage. The machine has a fold down handle that can be folded when storing the machine in some limited space. This takes away any concern you have about storing the machine.
Great thing about Hoover UH70210 is that it is not only integrated with just one kind of filters. Instead, the filters on Hoover UH70210 have multiple qualities. For instance, the machine has carbon filters which have the ability of absorbing the unpleasant odor in the room. It also has HEPA filters which are the best filters for vacuum cleaners. These filters make sure that every dust particle is well trapped and the surrounding air remains clean of any idle dust particles and odor. This makes HEPA filters highly recommend products for people who suffer from dust allergies.
There are five modes of cleaning available on Hoover UH70210. Every mode works for a specific kind of floor. A particular mode can be selected from the switch available on the machine.
There is a special scuff bumper on the front side of the machine. It often happens that, while cleaning, you bump into furniture which can result in damaging the machine. With this bumper at the front of the machine, you now don't need to worry about damaging the machine. Even if you mistakenly run into some hard object, the bumper keeps the machine save from any kind of damage. This results in reliable performance for a long time.
There is a special system-check indicator available on the machine to make sure that all functions of the machine continue to act with efficiency. In case there is some operational error in the machine, this indicator tells it with a beep. For instance, if the filters of the machine need cleaning, the indicator will indicate it in due time so that you are avoid damaging the filters.
Tools and Components with Hoover UH70210:
There are various valuable tools and components that are included in the complete package of Hoover UH70210. These tools and components provide specialized cleaning and each tool can be used for a particular requirement. For instance, the machine, like other high-tech vacuum cleaners, comes with a pet tool whose rudder blades and powerful suction makes sure that your carpet or couch is completely freed of any unwanted pet hair.
The 27 inch power cord is another important accessory with the additional advantage that it can be rewound without actually winding it manually. Instead, you only need to tap the pedal of the machine and the cord would be retracted steadily inside.
You can use the upholstery tool to clean stairs and other places which are hard to reach. Finally, there is the crevice tool for cleaning in narrow spaces and a 12 inch extension wand.
With respect to efficiency of performance, price and components, Hoover UH70210 is certainly an excellent choice for home users.
Click here to purchase this product on Amazon.
Tagged with: Hoover • Hoover UH70210
Filed under: Hoover Reviews • Upright Vacuum Reviews
Like this post? Subscribe to my RSS feed and get loads more!