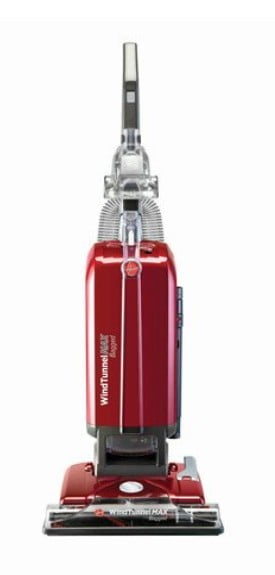 With the passage of time, just like everything else, vacuum cleaners have been seeing a lot of technological innovation and accomplishment. Major companies are manufacturing vacuum cleaners that use cutting-edge technology in their operations. A similar machine with high-tech features and great performance is Hoover UH30600 mainly designed for home users.
Main Features of Hoover UH30600:
Wind-tunnel tech is a unique feature of Hoover vacuum cleaners and this remains true with Hoover UH30600. Thanks to this remarkable technology used in the machine, the air-flow path is divided into three channels. This multiple channel operations increase the power of suction and thus make sure that minutest dust particles are sucked and trapped by the vacuum cleaner.
The bags used for capturing the garbage are made with HEPA media. HEPA technology is employed to increase the efficiency of the filters and bags. With this technology in action, the vacuum cleaner makes sure that 99.97 percent of the dust and dirt is cleaned down to 0.3 microns which is the best you will achieve on any vacuum cleaner in the market. Besides, the bags have been designed to provide utmost operational efficiency. Whenever the bags are filled, an indicator on the machine beeps so that you can clean the bags without congesting them. The bags are released with a simple push of a button directly into the trash can and you don't even need to touch them. This easy operation of the bags makes sure that they last for a long time and hence decrease considerable cost.
In total, there are seven different settings for different kind of floors. You can switch between the floor types with a simple twist of a dial. Whether you are cleaning your carpet or vacuuming bare floors, the settings cover all these types.
Tools and Accessories with Hoover UH30600:
The tools and accessories that accompany Hoover UH30600 include:
– A crevice tool which is 12 inch long. This tool with its extended length is more than sufficient to get rid of all the dirt and dust trapped in narrow spaces and crevices.
– An extension wand which is connected with the machine and used to clean stairs and places which are otherwise hard to reach.
– Pet hair removal tool which, as the name suggests, is to get rid of the pet hair which can easily get trapped in carpets and couches.
– Power cord whose length is 30 feet. With this length, you can continue the vacuuming operation in moderate and large rooms without interrupting it at regular intervals.
Final Verdict:
Hoover UH30600 is easily one of the best and finest quality vacuum cleaners available in the market. The name Hoover is itself a standard in the industry and the products manufactured by the company come with a long operational life and reliable performance. Hoover UH30600 has all the features that a home user can ask for. Besides, it utilizes the latest technology prevalent currently in the vacuum cleaners. For people who have to clean moderate and even large sized rooms, this machine is one of a kind with guaranteed performance.
Click here to purchase this product on Amazon.